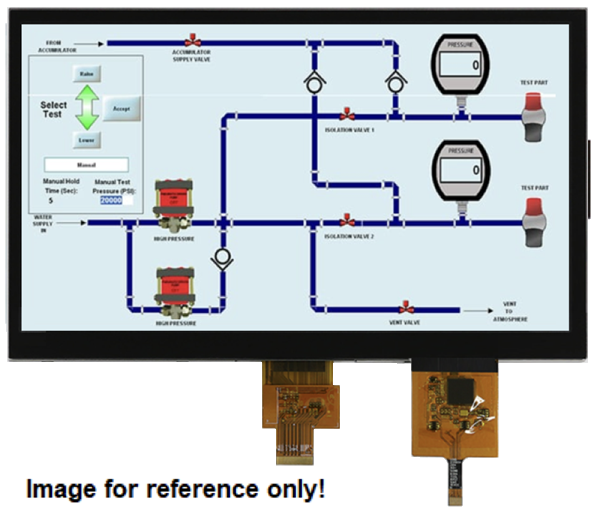 10.1 inch display/touch solution
We were contacted by an engineering company to offer a replacement for the current small size display. The final product is a very specific system for test and calibration of pressure and electronic measurement units. This "rack mount" design acts as a central communication and control system. The aim of the final customer is to have a cost-effective solution that is as interactive as intuitive.
Sourcing such a product for limited quantities proved to be challenging. By combining products from two independent suppliers, we obtained a display/touch combination that is supplied to the customer as one single unit.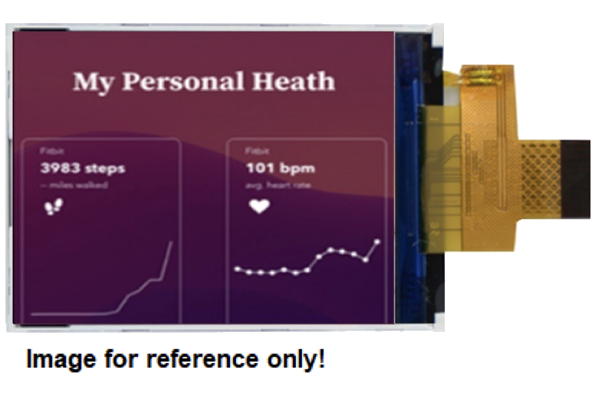 Customized 2.4 inch TFT
For a medical device we have been working on a suitable solution in close cooperation with our customer. This new development is defined by a modular base that is suitable for more than one product.
Taking into consideration power consumption, longevity, size and optical performance, we supplied the pre-production run with a specially designed tail with the required interfacing and pin-out. The unit will mean a tremendous improvement of the quality of life for patients in The Netherlands and in future runs also in other parts of Europe.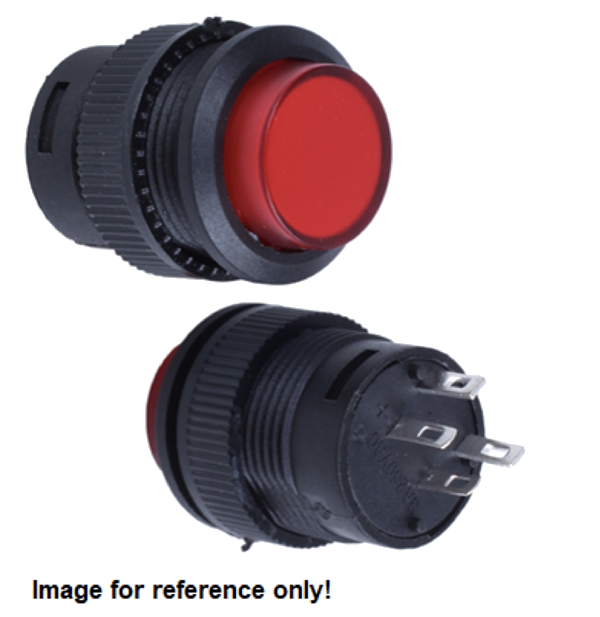 Custom LED illuminated button
As the time progresses with shortages all around, customers turn to us to help find a way to avoid production delay or production stop altogether! We have had a long term relationship with this company for display and touch solutions. But this time we were involved in sourcing a product that is a bit more out of our regular scope.
Finding a direct drop-in replacement took us a bit of time, but after a while we provided samples with the right fitting, lens, LED viewing angle and brightness, even with the right driving connection. And all of that for an even cheaper final price than they experienced with their previous local supplier. Another win-win result, securing short-term production and sales.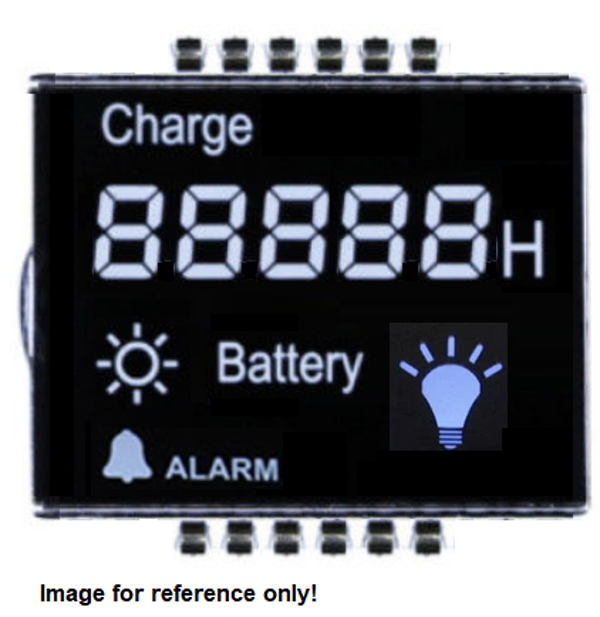 Custom LCD panel for control unit
Finding the right display solution can be challenging for customers. By turning to DiBis, the solution is usually found in an efficient and competitive way. The design came to light because the customer was looking for a cheaper solution. Not only as a product, but also by eliminating the costly components. Caused by the component shortages, the main driver IC experienced extreme long lead times and via alternative sources, the price got to be 9 times higher than regular pricing.
To solve the matter with a quick turnaround, DiBis supported the custom design that came with very specific outline dimensions and unique design features. After supplying several samples, customer was quite happy with the performance and design and gave us the approval for mass production.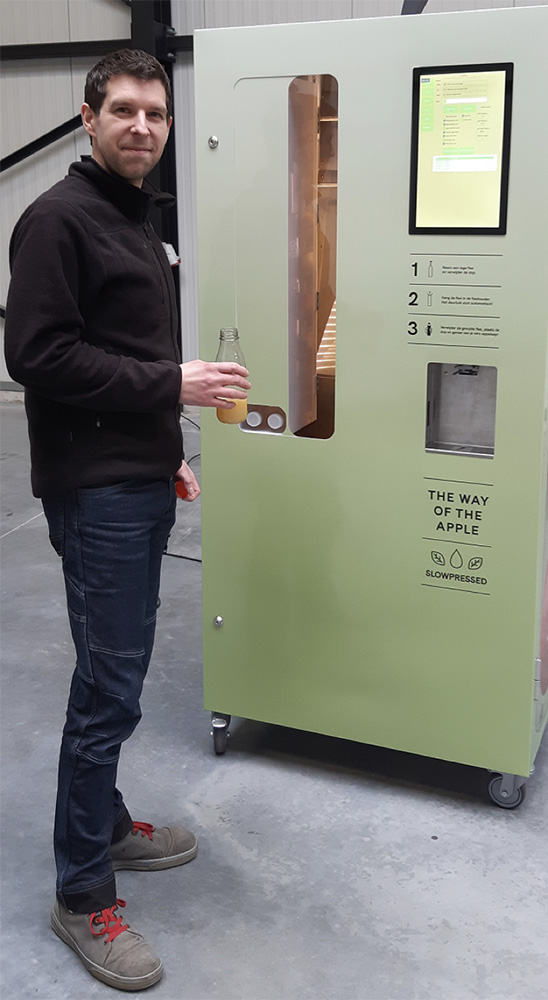 Embedded display / touch kit for apple juice vending machine
This start-up company came up with an ingenious way to serve fresh apple juice. Fresh apple juice is much more complicated to create via a vending machine than orange juice. The owner of the company combined his skills with his vision and reached out to DiBis via a mutual contact.
The 15.6 inch display / touch kit is directly connected to an industrial type embedded board with a multitude on I/O ports and recent fast and flexible ARM CPU. The entire kit is supplied incl. the matching cable set, VBIOS adjustment and increased memory. We are supporting the customer by assisting in implementing fine-tuning of improvements.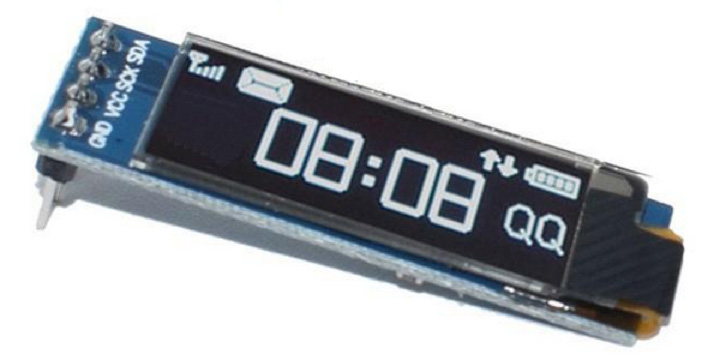 OLED COG display with PCB assembly
While being in contact with one of our loyal customers, we came across the development with a small size 0.96 inch OLED. It is for a sophisticated EV charging unit. The uniqueness of this product is that a COG OLED display is mounted on a PCB for easy integration and rugged connection.
During the development customer requested to have a more dark background by means of an additional polarizing film creating a better contrast and readability.
In the meantime we got our first orders where we have managed to match the demand and the supply well, offering customer flexibility as well as low pricing.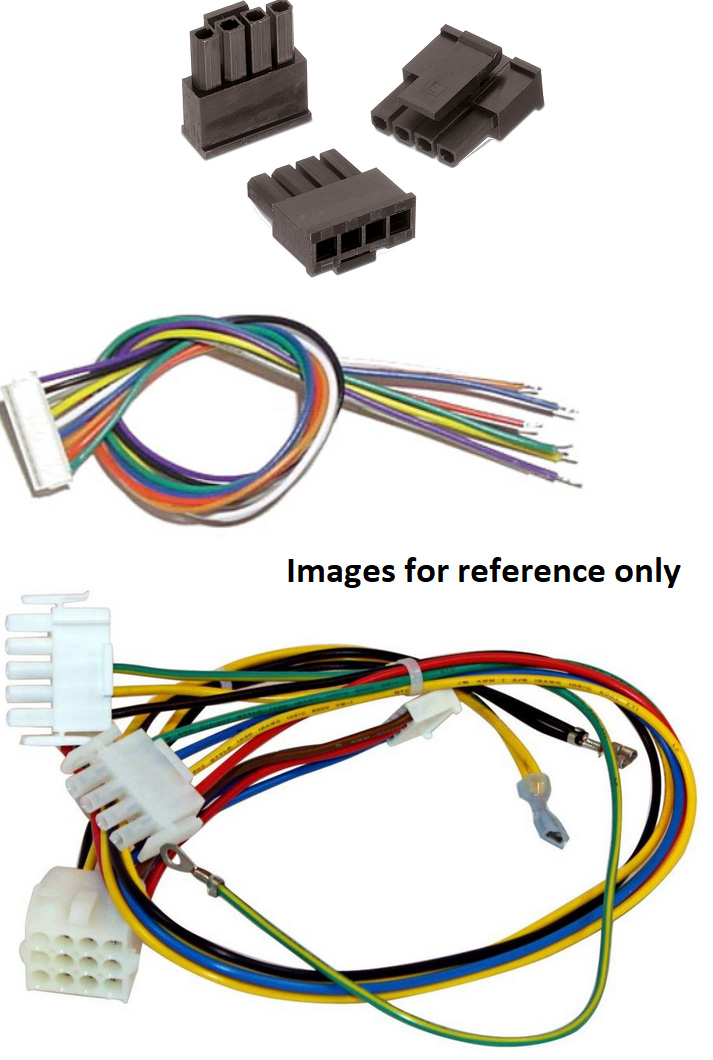 Custom cable kits for alarm systems
Another long term customer was faced with long lead times for connectors from their prior supplier, which would have led to major delay in their deliveries. To avoid loss of (potential) customers and orders, they requested DiBis to offer alternatives.
After a secure check with our local Chinese purchasing office, DiBis offered the customer several cable assembly developments including PDF drawing, sample service and mass production deliveries. Where some were straight forward, others were more complex and involved a couple of less common connectors.
The cable confection has been executed well, adding another satisfying experience in the extensive cooperation.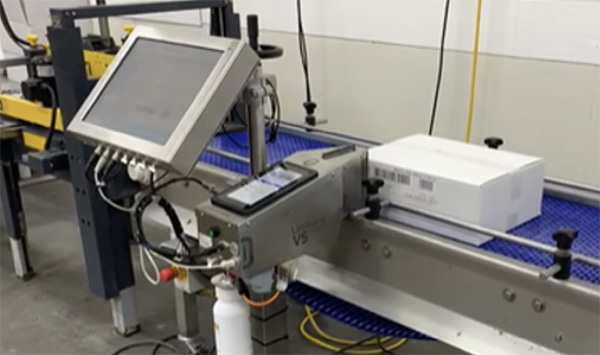 Full IP65 panel PC
By reference of one of our other customers we were introduced to a custom packing material printer company. They have customers in several areas of the world and in different branches.
This specific high-end fanless full IP65 stainless steel chassis PanelPC from our supplier Kingdy in Taiwan, we were able to make a fitting proposal for their application. The whole unit is IP65, including the connectors and backside.
It is designed for a long-life operation 24/7 with high reliability and stability solutions for industrial applications such as industrial automation, food & beverage packing & chemical automation, factory automation, process control management, sunlight readable solution.
The unit has recently been installed and customer is has successfully finished testing. It will be in full operation from January 2022.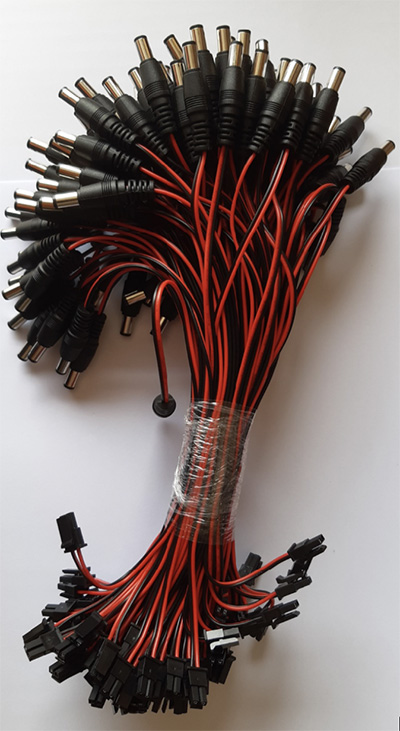 Custom cable assembly
The customer in this case has been a very long term customer. Due to the shortages on the market for electrical components, the lead times for special cables extended 30~40 weeks.
In a timeframe of 4 months we have supplied several custom designed cables, ranging from relative simple to much more complicated versions. The original connectors are hard to obtain in the current markets.
The applications are various types of alarm systems and because the original cable supplier wasn't able to share the original drawings, we had to start from scratch based upon some general specs, type numbers of connectors and digital images.
Our supplier was able to offer a first drawing within 2 days incl. a competitive quote. The lead time for the samples was just a matter of 10 days and the first mass production quantity was delivered within 3~4 weeks.
In the meantime our customer has implemented 4 different cable types from our sourcing provider in China and we look forward to take on other challenges.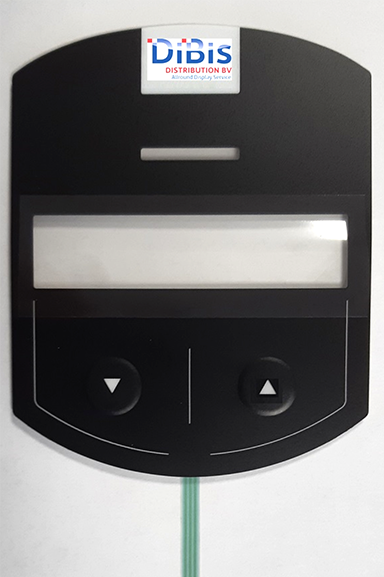 Custom front patch
Recently we developed a front patch for a high volume customer. They have been buying via a local vendor, but because of price and delivery issues, they requested DiBis to check for alternatives.
With DiBis' wide palette of suppliers in different fields of (semi-)industrial electronics, we were able to develop quickly a suitable solution for them with all the detailed specifications that the customer had.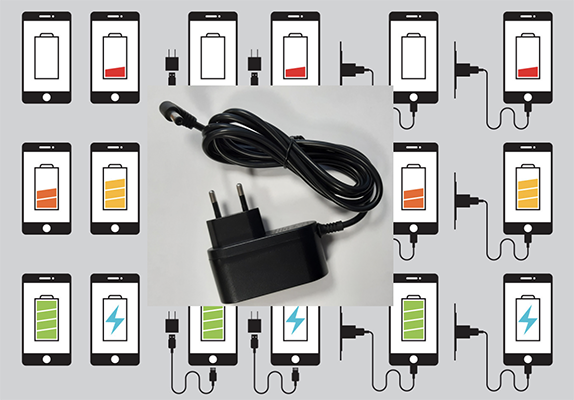 Power adapter with logo
The pre-production has been ordered recently. The customer initially thought of just a cable, but then swiftly made the decision to have the entire power adapter with custom cable developed in cooperation with us.
The cable has a specific length and the DC connector had specific requirements. Additionally the customer requested a logo (which we can't show on the website by customer's request). The housing ultimately wasn't really suitable for color printing, but we were able to negotiate a monochrome logo by laser printing.
This adapter will be ordered in higher volume from 2022.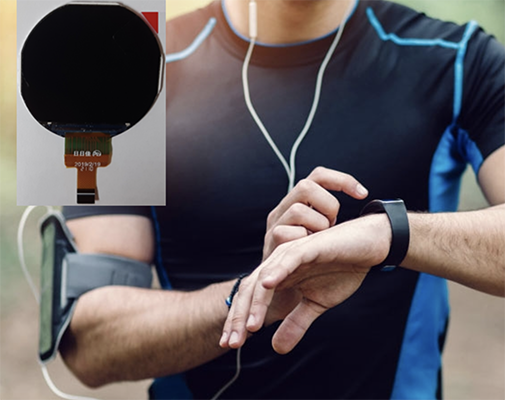 TFT display for wearable
Through a leading development agency and "incubator" we were introduced to this interesting start-up company. They have developed a wearable multi-functional alarm system for hikers.
The customer was looking for a trusted partner with lots of expertise in display solutions. The project was handled on and off by in total 3 different partners, where DiBis kept the lead for the sourcing and display specifications. End of 2021 the first series of the final product will be released and ramp up of quantities are scheduled in 2022.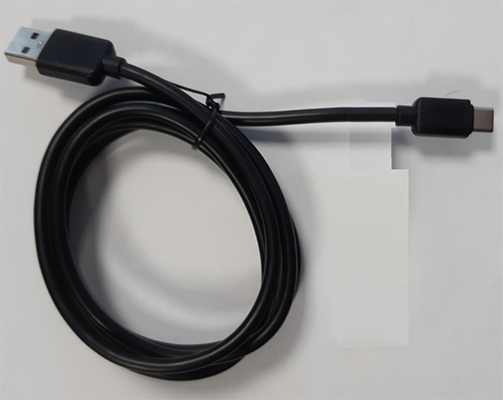 USB custom cable with logo
This customer had the mindset to get a custom USB cable with specific length and requirements for charging (load ratings).
Our supplier was quick to respond to all the inquiries and sent out samples within a week from approval of drawing.
Additionally the customer was looking for a logo to put on the cable. It was decided to put their logo on the USB connector side.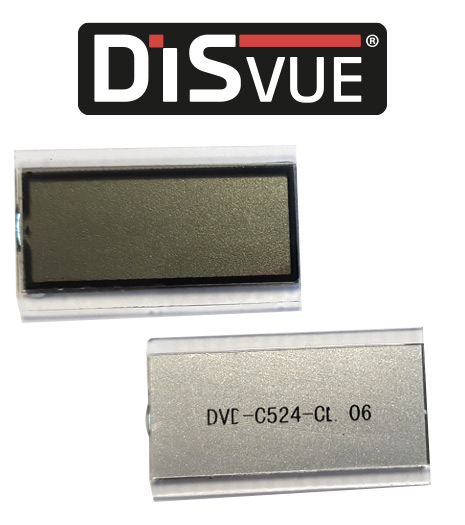 Custom LCD panel
Via one of our long term customers that is involved in electronics development, we were introduced with a company that was faced with an immediate phase-out. Their supplier wasn't able to offer an alternative, but fortunately we solved the problem via our extensive supplier base.
The display is in principle quite simple and straight forward, but in these difficult times with shortages and allocations, it was a bit of a challenge to find the right display partner. Once the offer was accepted, the samples were sent relatively quickly to the customer for evaluation and turned out to work according to expectation.
DISvue is a brand label with a broad spectrum of display products and solutions, aimed to serve our customers to the best level possible, satisfying the need for final products as components or as total solution.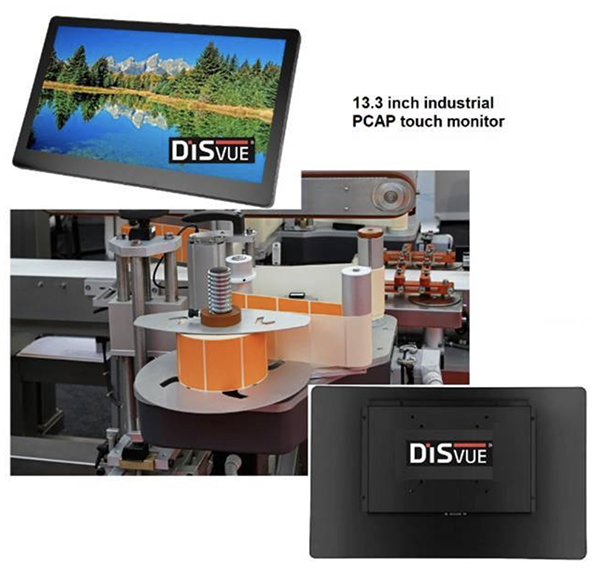 Industrial PCAP touch monitor
As grateful as we are for our long term customer base, we are also very happy to welcome establish a new relationship with companies big and small.
This company and DiBis have never been in touch before, but after exchanging general information and sending a prototype (on temporary base) and a very warm felt visit, the deal was closed swiftly.
In their recent experience they found that the previous supplier had changed the monitor from within, causing failures. However, solving the matter turned out to be a (too) long story. Selling its products worldwide, a reliable product is a must.
Quickly after acknowledging DiBis to be a truly experienced source in the field of flat panel displays and the market for electronics, we sold our first batch and expect many more orders to come.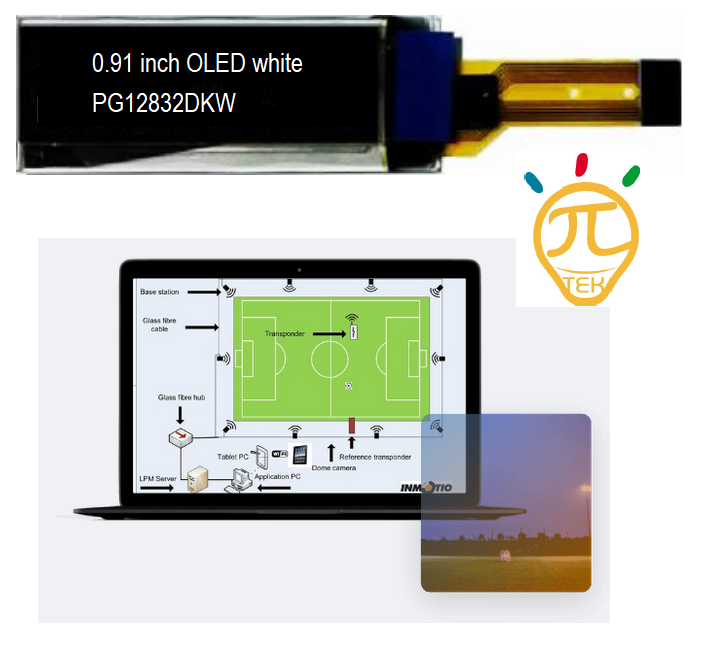 OLED display in smart wearable training system
Some time ago we were approached for an ultra-light weight and easy to read display. After checking all the pro's and con's we advised the customer to evaluate a small OLED display.
The display is inserted in a training vest as part as a "tracking unit" for professional soccer players, though the vest can be used for other sport excercises.
The system is developed by the Dutch national soccer association in cooperation with a specialized electronics and software company.
We are proud to be a small part in the performance improvement of our national soccer team(s).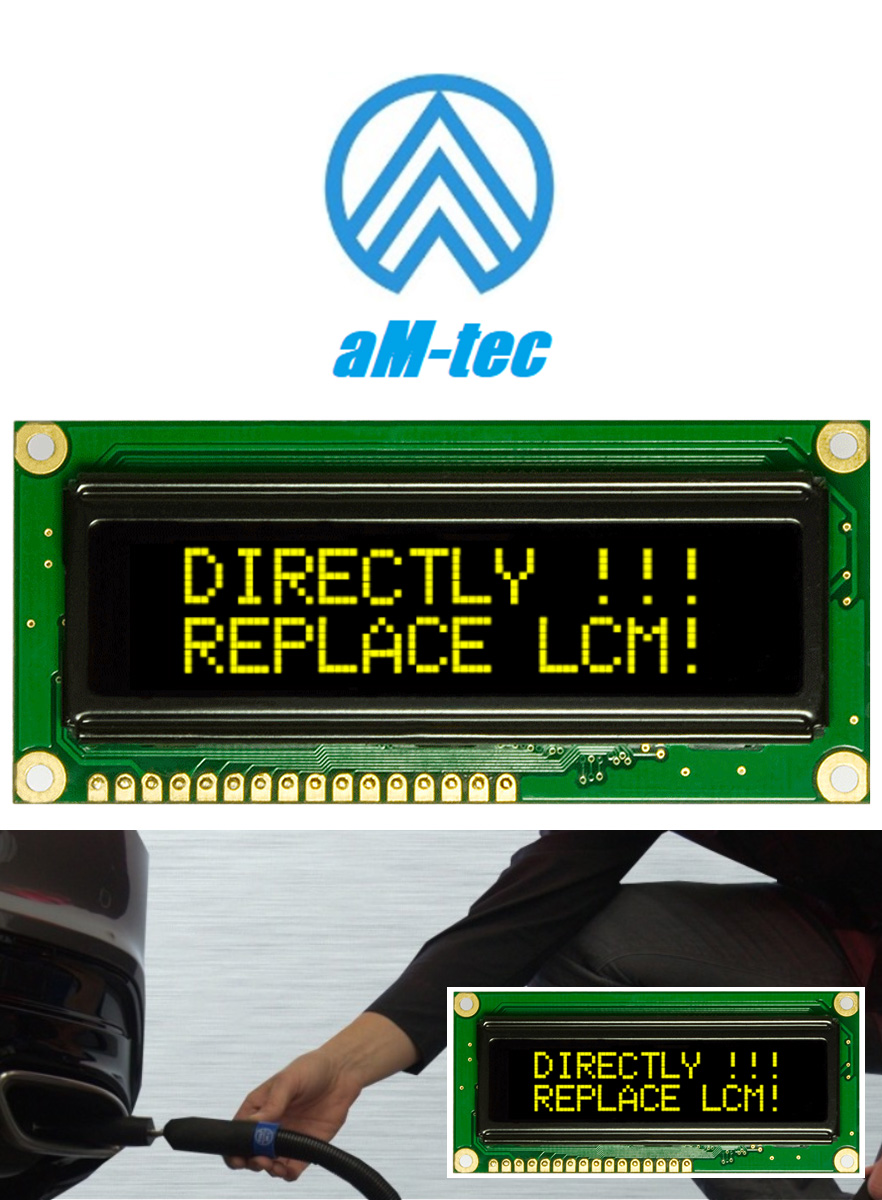 OLED display in exhaust analyser
For our long term customer in the Netherlands we have sourced and secured a display product to benefit their latest product addition.
This customer was eager to again work with us on this project, keeping in mind their positive experiences over the years concerning the earlier display operated products.
The added value of DiBis to this customer became even more evident when they couldn't get the deal done because of lead time and pricing discussions with the online service, despite using their sample.
Because of our extensive supply chain, DiBis was able to meet their goals for fast delivery for their ramp-up stage and ongoing production. Furthermore it turned out our pricing was more aggressive than the online brand. Our customer is aware that, unlike some online shops, we are always available.
We trust to cooperate with this customer for many years to come with a competitive and high quality product.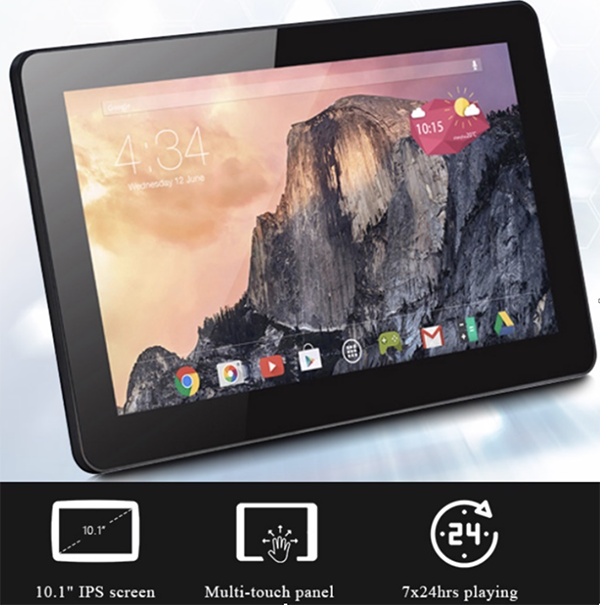 PoE type tablet for medicine distribution
This particular customer has signed a big contract with several leading hospitals in France. Their challenge was to improve accuracy while limiting paperwork. With an ingenious network link with a highly accurate patient database, hospital personnel can distribute the medicine per person based upon location. Secondary verification is done by the human factor.
The tablet it mounted in an ergonomic way with easy access to the touchscreen. The PoE characteristics will allow the unit to have only 1 cable access for data and power. Furthermore this light weight unit is easy to mount via the VESA connection on the back. In the future we expect the touch bezel to switch to white color.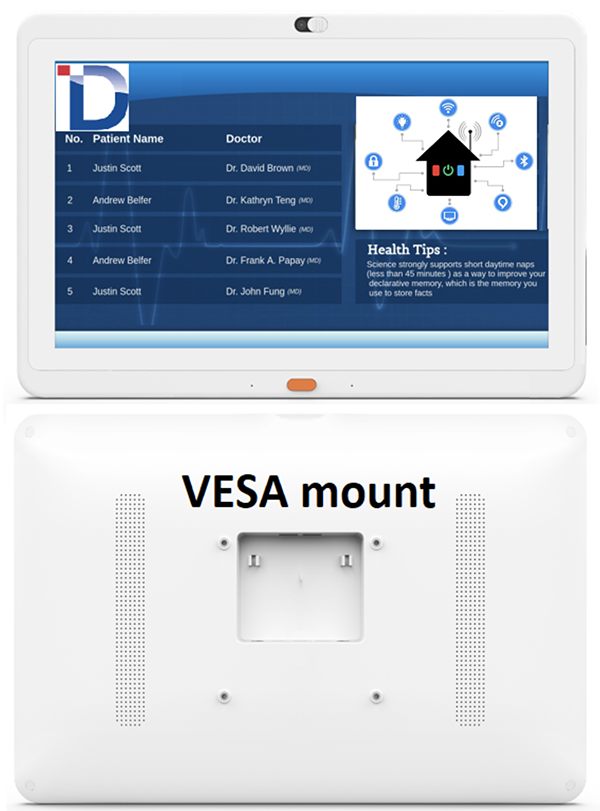 Full-feature Home Automation Tablet
Multi-media applications keep expanding. It is not just for the latest gadgets or the younger generations. It can also be a great advantage to elderly who experience the advantages of a single terminal for all their in-house communications. From a video doorbell solution to receiving calls via mobile phones and the settings for heating / cooling. Even the commanding of the drapes are integrated.
The tablet that we were able to source needed to be customized with a.o. a dual-microphone solution to get the audio optimized when a call comes in from a mobile phone user. Naturally we paid attention to specifications like long life LED backlight, MTBF figures, easy wall mount (with locking system) and the Quality Assurance program from the factory.
With the specific customer FirmWare it will be a quick and safe installation.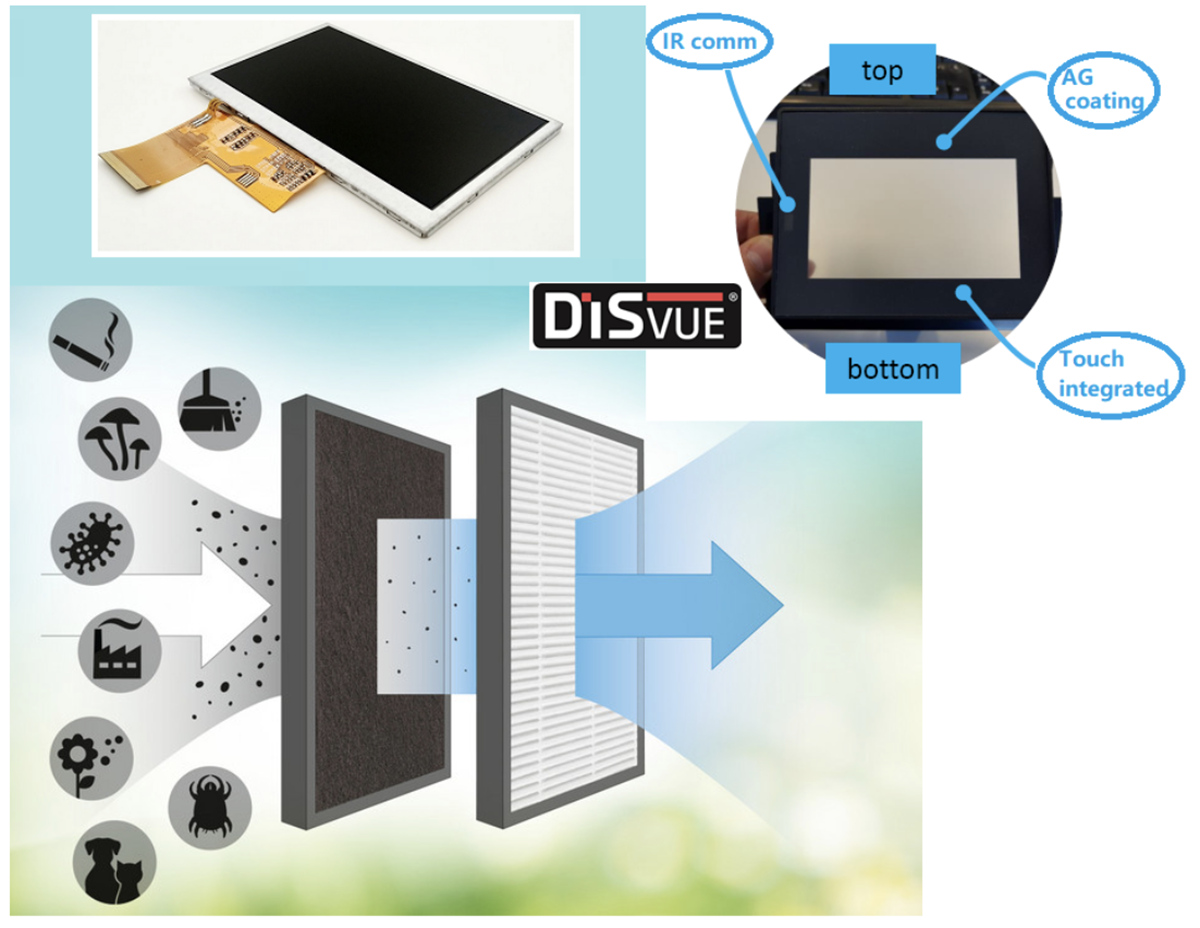 Full custom touch solution on 4.3 inch TFT
Starting some time ago at a design company we then moved to direct communications with the customer. That worked out very well with a first large mass production solution.
DiBis was able to show the added value to combine display, touch and cover foil in one. Additionally we have integrated the IR communication area to enable the use of a remote control. The total solution was such an improvement that other products will be fitted the same DISvue product.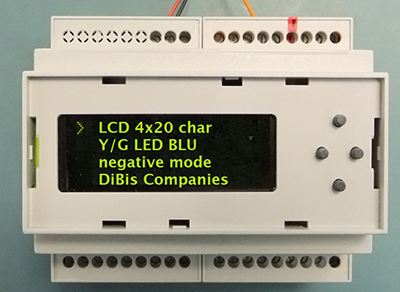 Enhanced LCD 4×20 characters
For a development company we have sourced an LCD that has the advantage of lower cost and long lifetime in combination with a high contrast view.
Supplier Nelytech has a strong reputation of long term availability and stable, reliable quality while lead times are usually quite short.
The display is used in a self-developed PLC controller for larger water purification systems, e.g. for flower farms.
The current unit is suitable for maintenance crew, but it is planned there will be an identical display for end-users.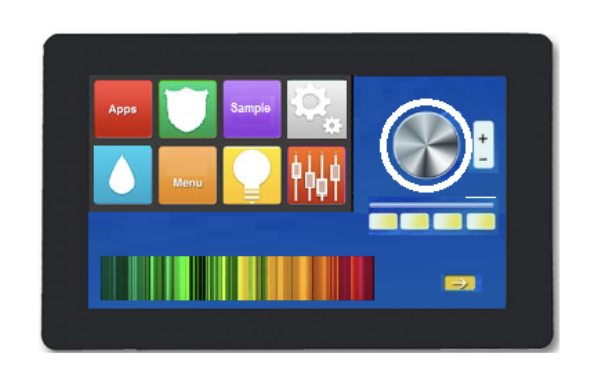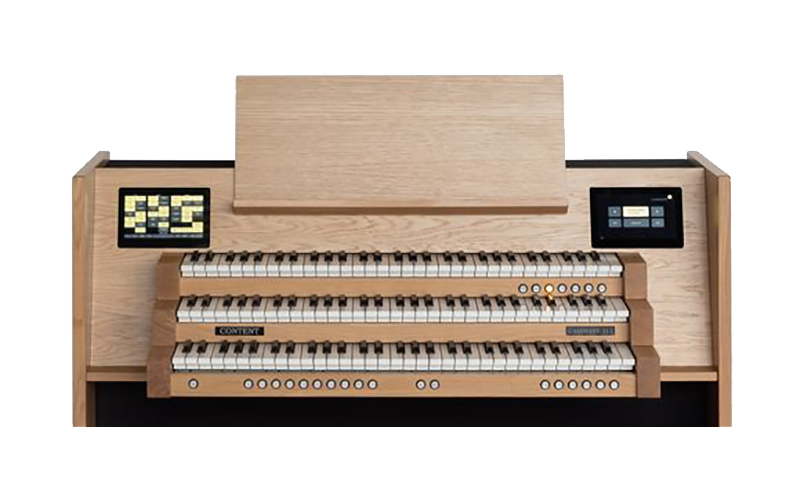 7.0 inch TFT with PCAP touch and HDMI/Touch interface board
A long term customer decided some time ago to upgrade their musical organs from an LCD with button foil cover to a full color bright display / touch solution. Some of the considerations were price; easy integration, intuitive use and readability.
One of the most appreciated features of larger displays with touch is that it allows a user friendly and language free software design. Colors and brightness surpass the more common (and cheaper) STN LCD technology. The strong developments in consumer wearable, handheld and mobile products have generated a shift in possibilities as well as demand from customers.
This display kit is ready to go into almost any application. The interface board enables any host with HDMI and USB interface to connect to this sub-assembly unit. Our customer was able to design from a standard PC platform and program their system accordingly. The only connection needed is an HDMI cable for the image and a USB cable for both power and touch communication.
Besides this we helped redesign the cover glass of the touchscreen so customer for easy front mounting the display/touch/interface kit in their application.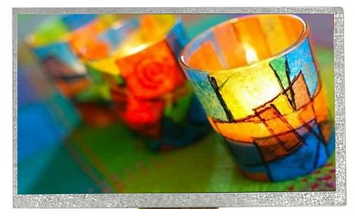 Semi-custom 10.1 inch TFT for coffee vending machine
This particular customer has had a long term relationship with DiBis for LCD products, but less with TFT. When they got an EOL (End Of Life) notification for their 10.1 inch TFT display, DiBis was approached to help solve the issue.
Main goal for the customer was to change as little as possible in the current design. Although the quantities are not very high, we found a Taiwan based manufacturer that was able to modify one of their new developed 10.1 inch products.
The final approval from the sample came very quickly, after DiBis had visited the display company in Taiwan to verify the optical performance and avoid potential disappointment and being able to discuss necessary changes. Fortunately this was not the case and customer proved to be more than satisfied with their new display.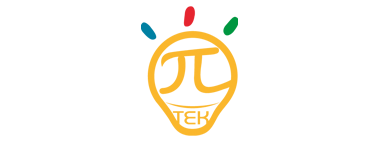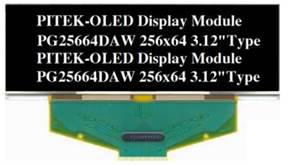 OLED display for alarm system keypad
After using LCD for nearly 10 years, our customer for the high end OLED display decided to move to a different direction. They found that OLED will enhance the look of their keypad unit to become future proof again.
It is well-known that OLED has some technological drawbacks, e.g. latent image and relative short life time. These requirements brought us to our foremost supplier of high end OLED displays located in Taiwan. Despite the drawbacks of OLED in general, it is unrivalled in terms of contrast, response time and viewing angles. The self-emitting technology granted another wish: ultra-thin dimensions making the assembly much easier and faster.
Even with the long life specifications, the price was still competitive compared to other suppliers. Additionally requested to have a different board-to-display connector for easier assembly, saving money in the process.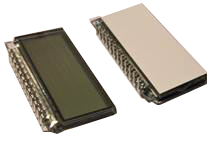 Custom LCD panel
The request was a bit unusual to start with, but ongoing the development and settling the wants and needs, the final outcome became clear. Originally the design came from a separate development company, working for a small medical technology company.
The volume is quite high and we had to overcome the challenge of low cost and high reliability. Furthermore there was a specific request to have an extreme low failure rate because once the display is in, there is no used of replacing int.
After a thorough selection within the DISvue factory base, we choose a supplier that fits the profile. Next to immense experience in all sorts of LCD technology products, they have been around for more than 30 years. Besides the product cost, DiBis also took care of the shipping pricing and logistic challenges.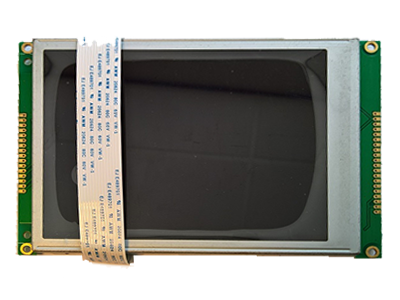 Custom 5.7 inch TFT for medical instrument
With our many years of experience in the display field, not only new but also existing customers come to us for special needs concerning their projects.
In this case we were requested to develop a drop-in replacement for a 5.7 inch QVGA LCD. After negotiating with several of our regular suppliers we came to one that offered the best solution.
This factory in Shenzhen, China supports us under the brandlabel DISvue. We have been working with them for some time now and they are keeping promises while offering competitive pricing and lead time.
2018 was the start and we will ship out the remainder of the quantity throughout mid of 2020.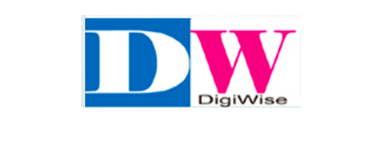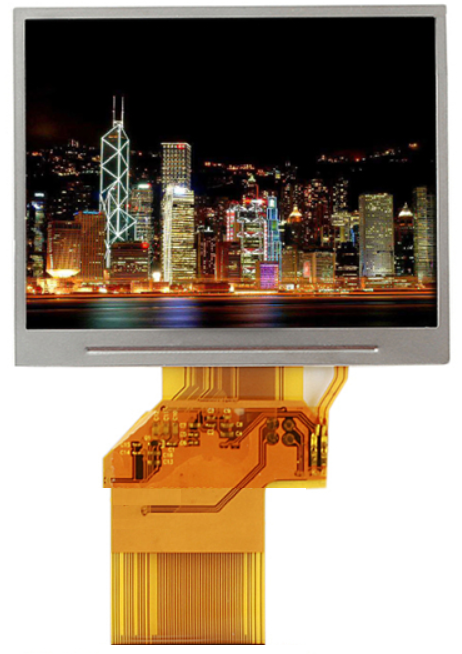 Semi-custom 3.5 inch TFT for EV charging station
The market for Electrical Vehicles is expanding rapidly. Starting with 1 ~ 2 brands, now more and more companies embrace the hybrid or full electrical drive for cars. That means cars need to charge and the locations to be able to do so is growing extremely fast.
Our customer started with the first runs early in 2017 and has currently come to a (temporary) peak. The DigiWise company has been very helpful in adjusting the display to the characteristics and is now ramping up production to commit to the requested quantities and lead times.
DiBis and DigiWise are partners from the beginning of DigiWise and the managing directors of both companies have worked together for over 20 years, resulting in a true win-win-win situation.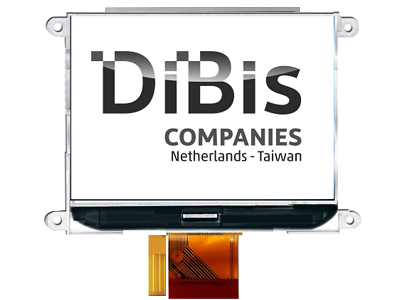 Full custom 3.5 inch QVGA LCD for measurement equipment (Thailand)
Our local Dutch customer acquired another European company, also resulting an heritage from them of a near obsolete gas measurement system. It has been an issue to find all the components because the original documents have not been provided completely.
The looks and feel of the apparatus will be changed to match the requirements for the coming decade, including a more sophisticated display solution. The long term relationship with the procurement manager and DiBis resulted in a request for quotation which turned out to be the very best of all other suppliers involved.
Another advantage of DiBis is that we can support the development support from The Netherlands and the logistic support from our Taiwan office, since the ODM factory is in Thailand. The shipping of the goods is arranged by our logistics hub in Shenzhen, China. They will do a full check on the contents before releasing the goods for customer to pick up. In 2019 DiBis visited the Thai company to further improve the relationship and provide face to face support on the project.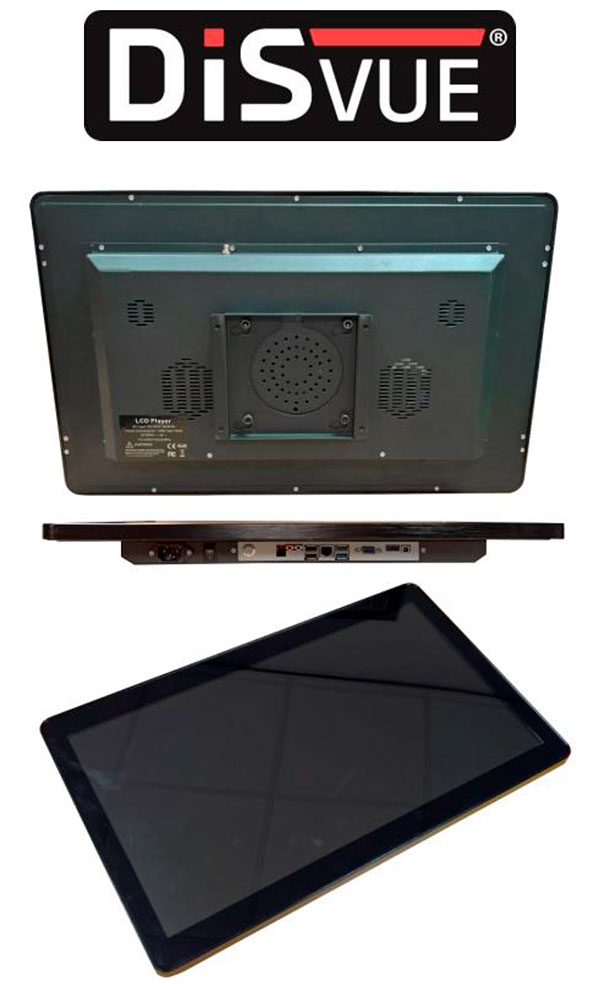 All-in-One system 21.5 inch, change-over from consumer to semi-industrial
 Companies turn to DiBis for all sorts of reasons.
The companies in both The Netherlands and Taiwan can be for help during sourcing at the moment of new development, it can be as sounding board for ongoing projects and even as a trusted partner to find a solution to change over from low lost consumer products to more stable semi-industrial solutions.
Consumer products are sometimes just fine to make it work, but if the project at hand is in need of some sort of stability and continuity, these non-industrial products don't follow the rule of one customer since it is made for the masses.
For our partner in patient care systems, we have found a way to change over from a consumer All-in-One (AiO) to a semi-industrial type. Semi-industrial in this case means it is made more customer specific with parts that are available for a longer period of time.
Besides that, it's design is in a metal housing and can be customized at smaller quantities.
After carefully testing the first sample and the creation of a "wish-list" we now supplied the first 12 units to replace the more vulnerable consumer type with a longer term availability. The price is slightly higher, but our customer is convinced the cost of ownership will be lower.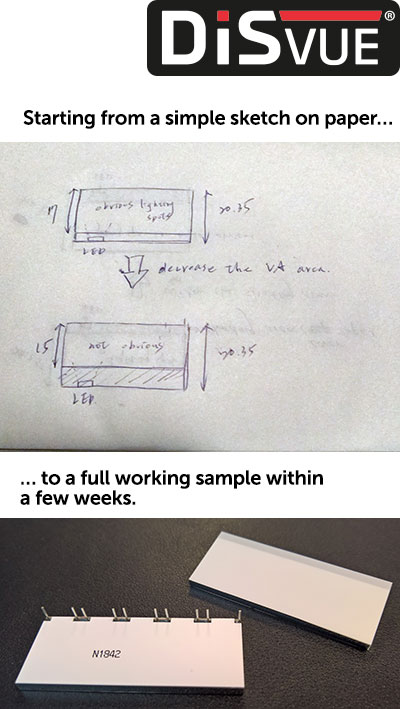 LED backlight unit for industrial heating system replacing EOL from other brand
Custom design is usually is matter of higher end products that are used in large quantities. At DiBis we take each project and request serious and strive to find a workable solution.
When we were requested to supply an LED backlight unit as a replacement for a competitor product that has been phased out. Since there was no technical document present due to an old design, we started from a simple sketch on paper.
With our span of Disvue suppliers for standard and custom(ized) solutions, it wasn't to complicated to present a drop-in replacement that was also price competitive. Within days we supplied a datasheet and only a few weeks later working samples.
Currently we are shipping our second batch in the MP (Mass Production) stage and have not had one piece returned with possible failure. Actually this was our first project with this particular customer and we have been able to extend our business relationship since!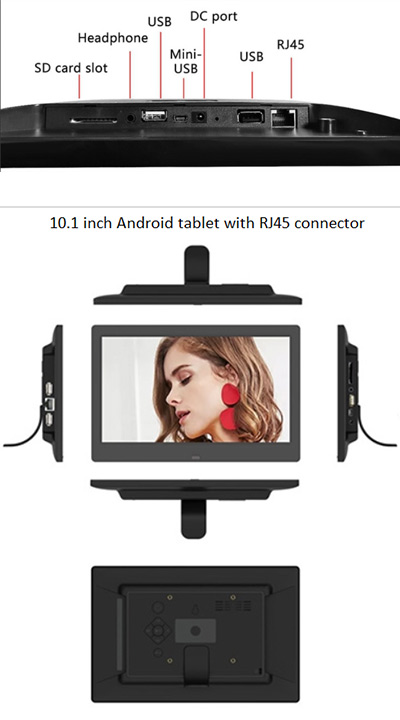 Android 10.1 inch tablet for in-shop advertising
During the past years DiBis established a close cooperation with a local customer that has a solid track record in the digital advertising world.
On and off we have bigger and smaller projects with them, starting quite some time ago with a special kind of 9.7 inch TFT including a dedicated VGA/HDMI interface board.
More recently we started a project with a 10.1 inch Android tablet with projected capacitive touch and the option of RJ45 connector with a total of almost 500 units.
The tablet will enable shoppers to get audio and visual feedback and show easy commands to control the system they intend to buy. Our customer is very experienced in developing software with dedicated hardware communications and matching protocols for multi brand solutions.
The added values of DiBis are the sourcing capabilities, the tight relationship with the manufacturer and the frequent visits to China and Taiwan to ensure that smaller and bigger projects get the required attention as well as true attention to details and quality assurance. When we ship the final product we are sure to have everything to meet customer's expectation!

Diverse display pallette for an audio customer
Our long term audio customer has been using DiBis display solutions in different forms and shapes. One is a full custom LCD assembly with housing, others are more standard, but still unique.
How does a standard display become unique? It is because of a different approach. For instance the graphic black & white LCD in the 1U metal housing. The space for the display is very limited. Furthermore the requirements were: long term availability and wide viewing angle + high contrast.
Searching in our pool of display manufacturers we came across a display that was exactly to the liking of the customer. The supplier supported the project well by allowing small quantity of different background colors during the course of the development.

Another standard, yet special display is from one of our main TFT display suppliers DigiWise. In the other 19 inch rack (this time a 2U height type), customer was in need of both color and touch. Also the annual quantity is not high volume so we met the demands offering relative small volume of 3.5 inch TFT including resitive touch while maintaining a long term design.
Both displays have been in use for several years now with a (virtual) zero defect rate and stable supply without changing of any of the original design. 
We thank our suppliers for enabling us to service our long term customer in such a reliable way.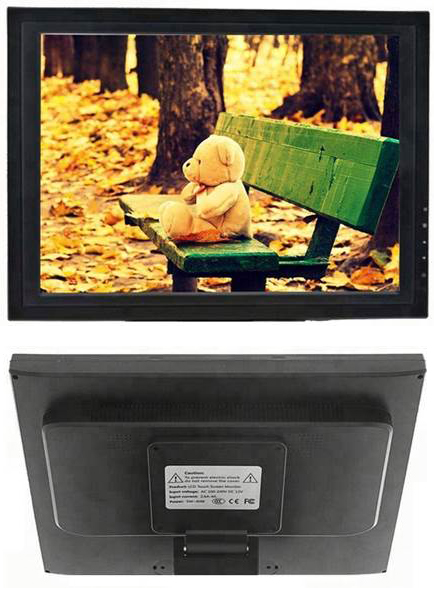 TFT touch monitor for musical organ
Buying direct from China can have certain advantages for customers. In some cases the quantities are big enough to outweigh the potential risk(s) and additional work.
Dealing with suppliers world-wide and thus very remote requires effort, time and certain skills. Cooperation between people in different regions (national, international or intercontinental) dictate clearness in communication. With the right (mind)set for doing business, many projects fail even though all other conditions and requirements are met.
The same for this customer who found a supplier online for relative standard monitors. Dealing with them was not so easy (time difference, different expectations) as with a local partner. Besides that the customer found that returning materials didn't make sense because of the high cost and thus a change was made towards DiBis.
DiBis is not only a product supplier, but also a service oriented company. Moreover we invest time and money to avoid problems. And when there are issues to be resolved, our frequent trips to both suppliers in the Far East and in special occasions also to the USA, to ensure we get the focus on matters at hand.
At the end our customer found out that despite buying from a local representative the price is even slightly better, solid repair support, an improved touchscreen and hassle-free communication. All in all a win-win and time saving situation.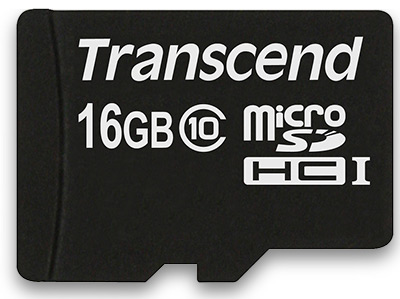 Memory module TS16GUSDC10 – for parking equipment
Our long term parking equipment customer recently started to upgrade their systems with a logging feature.
For this feature they needed to find a reliable data storage unit. The fastest and cheapest solution turned out to be a Class 10 (speed class) Micro SD chip card.
DiBis has lots of experiences with Transcend as flexible and trusted partner with competitive pricing. Besides that, the MicroSD chip card has wide temperature features and didn't require any rework. After a short trial period our customer was served best with the TS16GUSDC10. Currently they have placed another large quantity order to upgrade the systems that are already in the field.
Fully compliant with the SD 3.0 standard
Class 10 speed rating guarantees fast and reliable write performance
Built-in Error Correcting Code (ECC) to detect and correct transfer errors
Warranty: Five-year Limited Warranty
Read Speed (Max.): 45 MB/s
Insertion/Removal Cycles: 10,000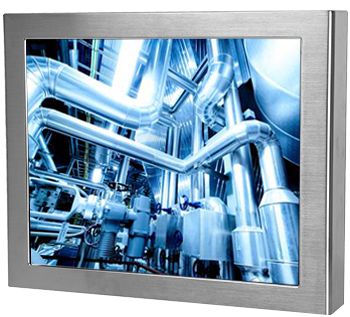 Automated fueling system
An international oriented customer with years of experience in the field of automated fueling systems was in need of an upgrade of their systems.
The manager in charge built up a more than 15 year relationship with DiBis and felt comfortable to trust us with supplying the panelPC system that will be used for years to come.
The original manufacturer Kingdy selects the components based upon continuity, support dedication and competitiveness. The total solution is offered in many varieties, for example: touch; high brightness; fanless; IP54 / 65 / 67 grade etc.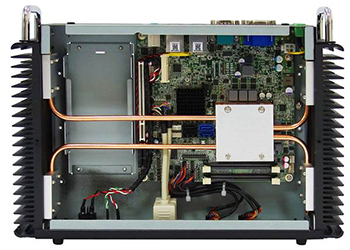 Autonomous vehicle for public transportation
In this case our customer has only more recent cooperation experience with DiBis. Their main focus is autonomous applications and systems.
When invited to participate in a project for a public transportation solution, they requested DiBis to offer a number of suggestions with pricing.
After careful consideration they came to the conclusion that the Perfecn fanless high performance system would suit best for the vehicles primary processes. The system is combined with 2 separate industrial touch monitors.