This EOL page is a brief coverage of SOME of the EOL notifications that are valid for our customer base and customers in general.
It is far from complete and based upon general market updates we feel may be interesting. Our product range is far too wide and complex to update all changes.
Please contact us in case you want to have more information upon a product you want to use for a new design-in.
September 2022 – EOL notification – Innolux 5.7 inch per March 2023
According to our sources in Asia, Innolux has announced the EOL of the G057VGE-T01.
This 5.7 inch TFT with 640×480 resolution and TTL interface is a product that has been released mid of 2014 and may very well exceeded the expected technological life span.
If you will face problems with this phase out, please feel free to contact us for potential (drop-in) replacements.
Do you wish you know more? Don't hesitate to Contact us with your requirements.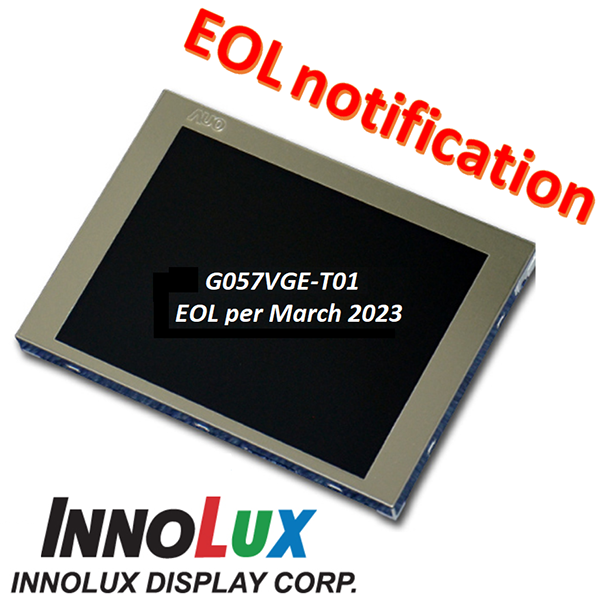 March 2022 – DISvue replacements for SQUARE dot 7 inch TFT
The 7 inch TFT display with 800×480 resolution and SQUARE pixel (AA: 152.4×91.44) is being widely used for industrial and medical applications. This TN open cell has been declared EOL and currently certain suppliers have sever delivery issues for this specific types. Considering the huge demand, one of our DISvue suppliers developed true compatible solutions based on both TN and IPS open cell.
TN solution
DVT-0700W-HN-VGLTUNN7 – replacing EDT
IPS solution
DVT-0700W-HN-VGLIFNN2R ==> replacing Ampire
DVT-0700W-HN-VGLIFNN5R ==> replacing Ampire
We welcome your requests for mentioned 7 inch, we'll provide compatible solutions, both as a standard or as a customized product.
Do you wish you know more? Don't hesitate to Contact us with your requirements.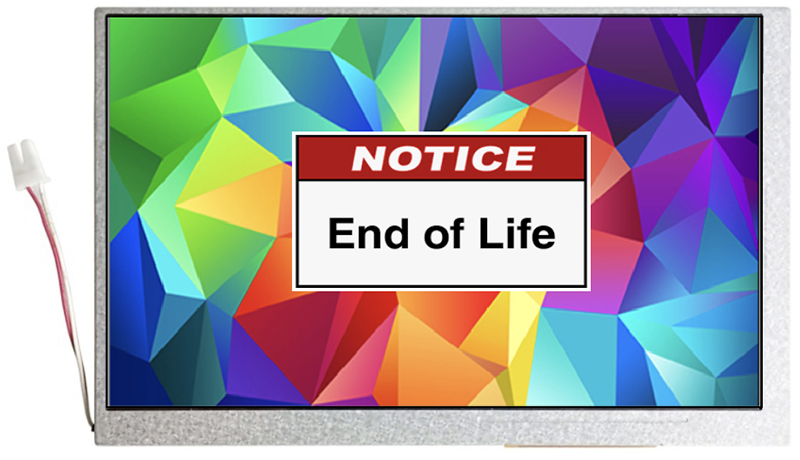 January 2022 – EOL notifications on DigiWise 1280*800 IPS H-series
Please note that the displays have become EOL due to extreme shortage from display glass supplier. A last time buy is offered as well as a replacement model.
Implementation Schedule: Immediately, the overall schedule please refer to the attachment.
Description of Change: Due to the shortage of the 10.1″ FOG, DW is forced to EOL and move on to the alternative models.
Affected Products: 10.1" 1280*800 IPS H-series products, please refer to DiBis for further details.
** 13-101ZIEBCAH0-S
** HA-101ZIEB0HH1-A
** HA-101ZIEBCAH0-A
Alternative model: The full specification and the new part number for the replacement model will be released around the end of February 2022.
For the basic specification of the new D-series, please feel free to contact us via contact@dibis.eu or contact@dibis.com.tw.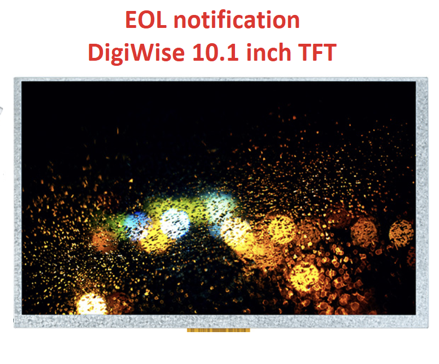 December 2021 – EOL notification RockTouch X line touch products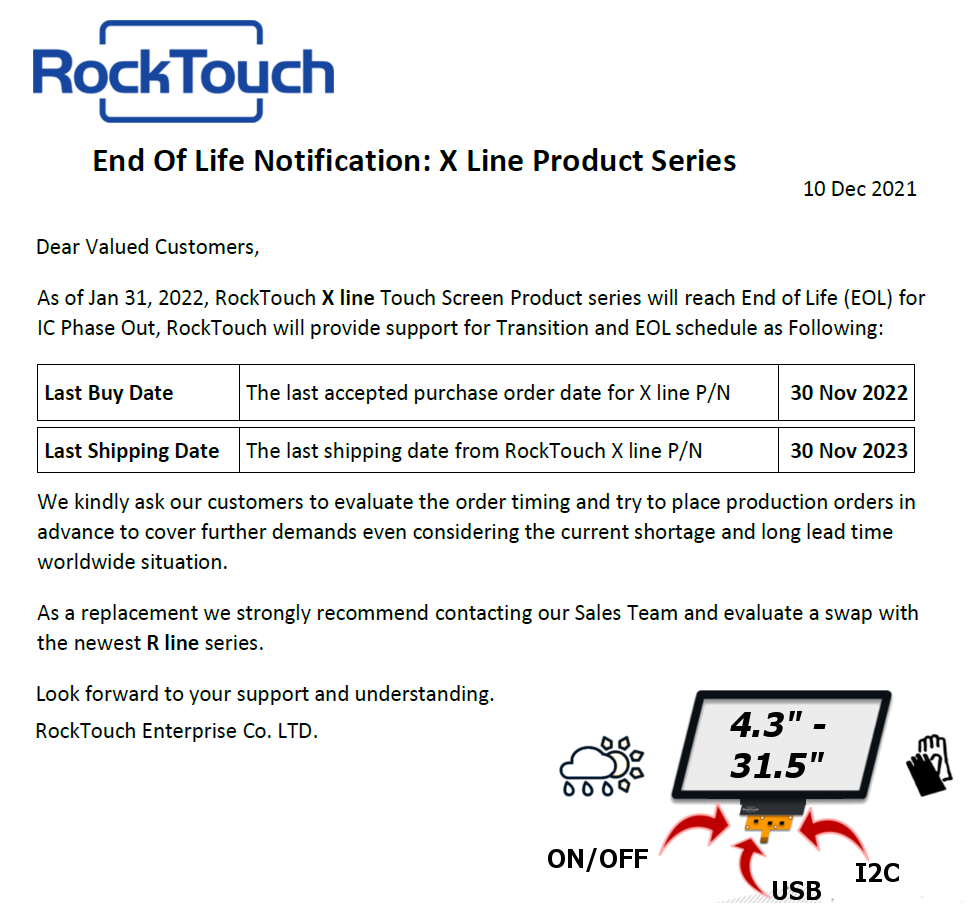 April 2021 – EOL notifications on Innolux and AUO panels
Through our suppliers we recently learned that a number of displays have become EOL. In most cases there is an alternative available, although they are not necessarily a drop in replacement.
The EOL displays are occurring throughout the entire product range. In some cases the quantities have dropped dramatically but the lack of original component may have led to the EOL. Both brands have different product segments for e.g. consumer, industrial, medical, automotive and wearable.
When choosing a display solution, we advise to contact a trusted partner involved in the display business to avoid any disappointments or production stops. You are welcome to send your inquiry to us contact our sales team.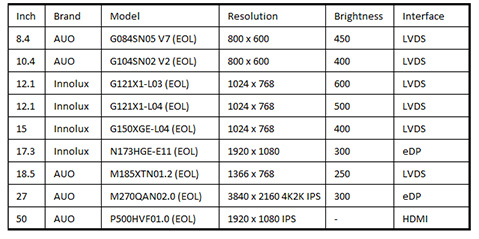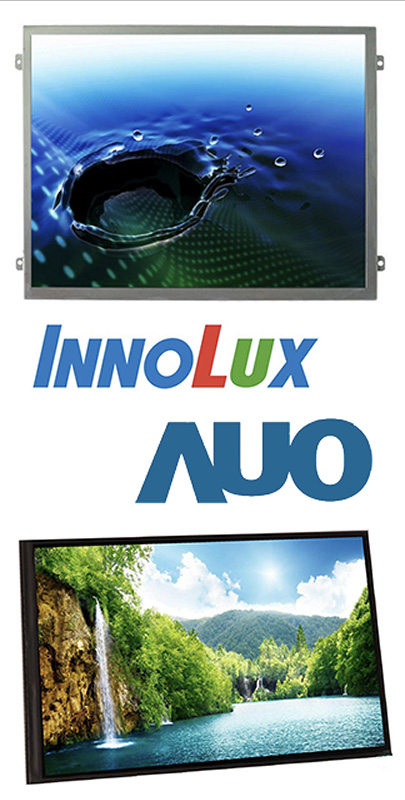 March 2021 – Avalue EOL Notice – for AMD G-series
To whom it may concern: The Avalue board and system with AMD G-series will become EOL per June 15th (LTB date).
The products can be shipped until December 15th 2021 (FSD).
Find your alternative at the DiBis companies. Please contact our sales team.
July 2020 – Mitsubishi TFT-LCD EOL Notice – Find your alternatives at the DiBis companies.
To whom it may concern: The very popular Innolux AT070TN84 V.1 has become EOL.
This display has been used in the (semi-) industrial market for many years.
According to our news gathering Mitsubishi will discontinue the production of all of TFT-LCD displays including but not limited to customized TFT-LCD by June, 2022 due to business withdrawal from TFT-LCD.
EOL notification date : June 15th, 2020
If you need more information or alternative solution, please contact DiBis for potential alternatives.
We support, standard, wide screen, wide temperature, wide viewing angle and customized solutions. Addtionally we offer integrated touchscreen and interface solutions.
End of producte date mid of 2022.
Find your alternativeat the DiBis companies. Please contact our sales team.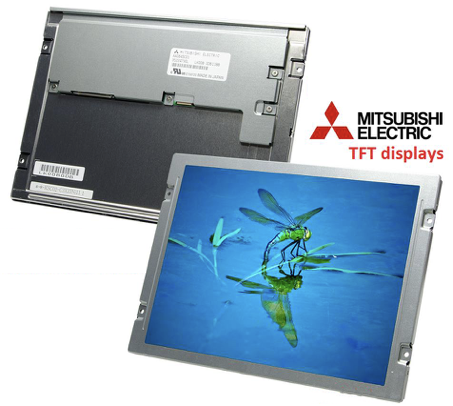 May 2019 – Innolux 7 inch top model EOL
To whom it may concern: The very popular Innolux AT070TN84 V.1 has become EOL.
This display has been used in the (semi-) industrial market for many years.
General features: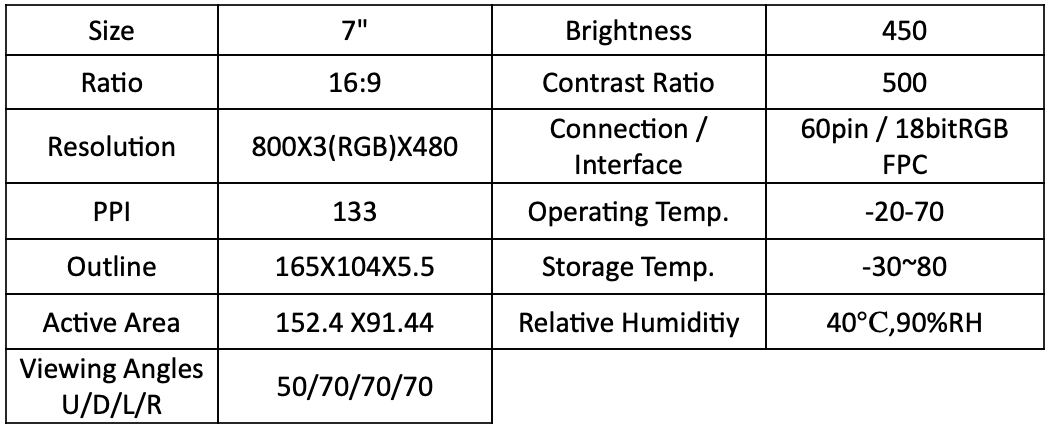 Should you require assistance in finding a matching equivalent, please contact our sales team.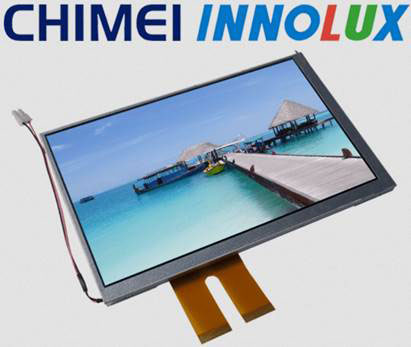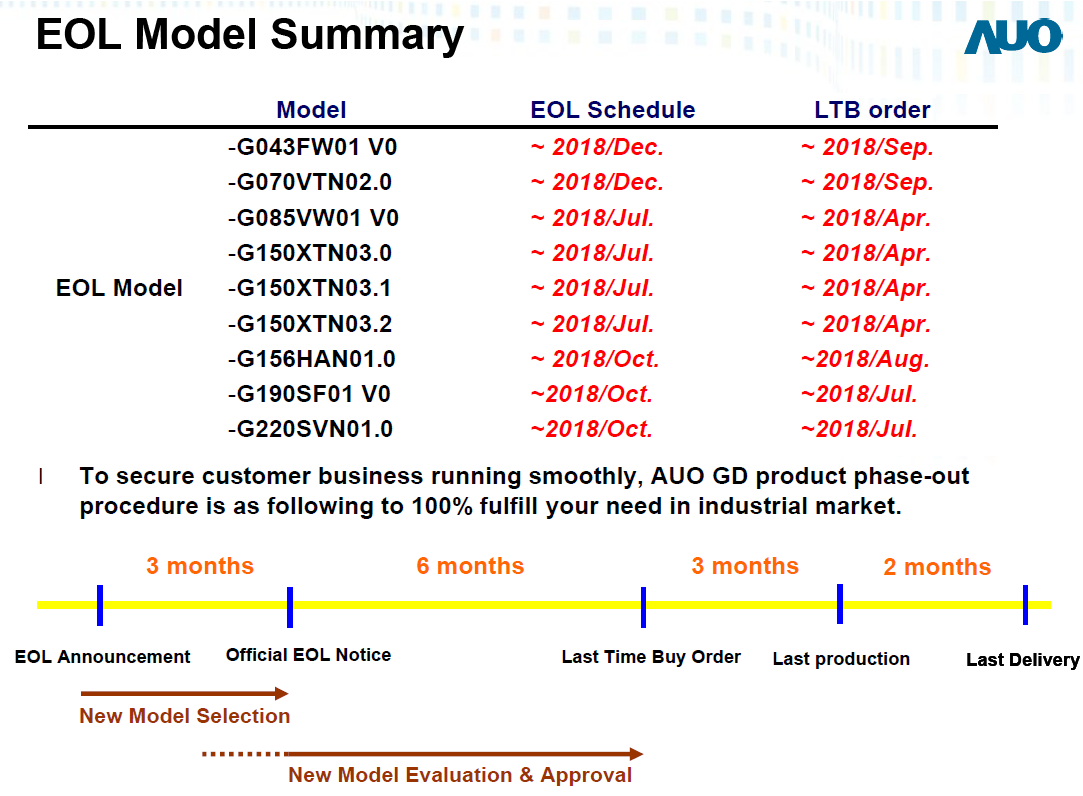 May 2018 – Discontinuation notification Intel D525 CPU
Please take note of the EOL notification. Should you be in need of CPU boards with this specific CPU, please contact us soon.
We welcome the opportunity to help you upgrade to a new CPU solution.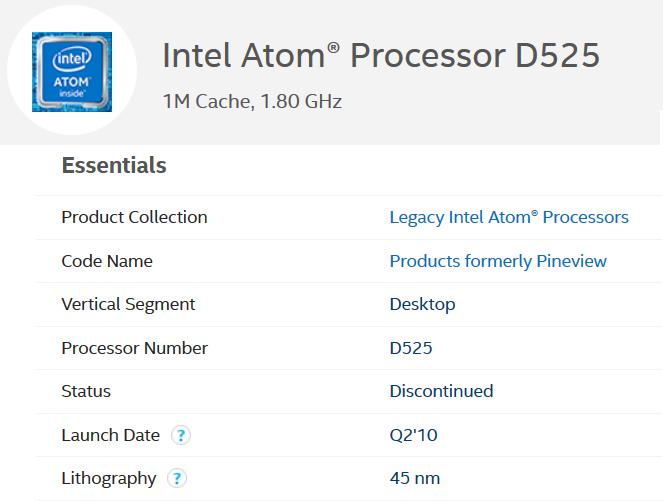 EOL NOTIFICATION VERSALOGIC MARCH 2018
Product Advisory #1703. VL-EPIC-25 (Iguana)
March 29, 2018
Product Advisory #1703. VL-EPIC-25 (Iguana)
This is a formal notification that a product supplied by VersaLogic Corporation is being discontinued.
Please read this notice thoroughly to determine what impact this change may have on future purchases of this product.


Details
VersaLogic is discontinuing the product noted above. Key components used in this product are being discontinued by their manufacturers. There are no second sources or alternate parts available to replace these discontinued components.
Customer Impact
These products are being discontinued and are starting their phase-out period. Please note the ordering details below to plan for an adequate supply of product during the transition to a new product. Contact VersaLogic to discuss products that may provide a suitable migration path.
Product Transition Period
To ensure a smooth product transition for this product, please note the following:
Existing Orders: Orders placed before the date of this notice will remain in force and are not affected by this product EOL.
Availability from Stock: Off-the-shelf availability, at current pricing levels, will be maintained for 6 months following the date of this notice.
Last Time Buy: Every attempt will be made to support a last time buy order in the quantities required. Last time buy orders will be accepted within 6 months of the date on this notice. Deliveries must be taken within 18 months of this notice.
Product Life Extension Programs: A number of Product Life Extension programs are available from VersaLogic. These programs use a variety of approaches that can often extend product availability for many years.
Please contact DiBis Digital B.V. for details on programs which are available for this product.