TN – MONOCHROME – MVA – IPS
TFT
The number of products worldwide using TFT products rapidly evolves. When TFT became commercially available, the limitations were clear both in price as in performance. Nowadays we are surrounded by customized commercial high volume types as well as industrial high reliable types in transportation, industry, medical, advertising, test & measurement.
The displays that we offer come from module makers and from glass makers. All of the leading glass brands we can support such as from Taiwan: Innolux, AUO, Hannstar and from China: BOE and Tianma. But of course we support many more display brands from South-East Asia.
Typical types available:
TN (standard)
Monochrome TN
MVA (wider viewing angles)
IPS (widest viewing angles)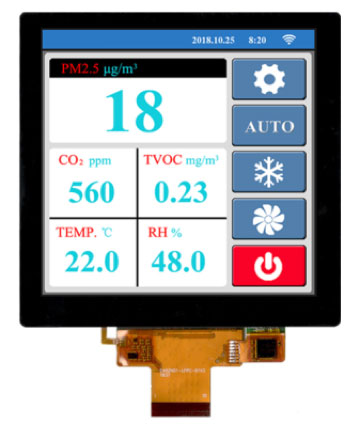 Utilizing the better viewing angle technologies MVA and IPS, the typical "viewing angle dip" of TN types is erased. At the same time these technologies have created a better contrast and color depth.
The sizes and shapes of TFT displays have drastically increased from less than 1 inch to over 100 inch. Portable and wearable products demanded to have more various types than rectangular displays, changing shapes to round and completely square types, with or without touch.
Moreover, larger types of TFT have become available as transparent types, mainly for advertising purposes and large diameter types are often "borderless"(active areas are right up to the side of the displays).
With the need for quick integration, our supplier have installed microcontroller ICs to further increase the processing capacity on the display itself. For more information, please check our "Smart" page for more details.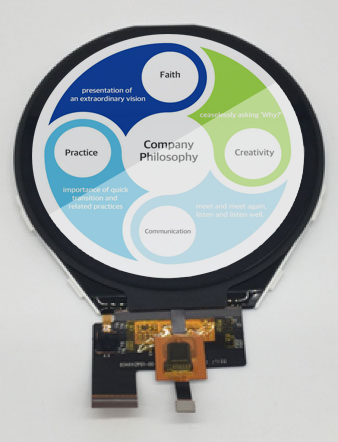 Where standard technology doesn't seem to do the job, display enhancements improve the usable spectrum for color displays. Available technologies amongst others are:
O-film (optical enhancement film) for better viewing angles on TN types
V-com and T-con board for timing control
Brightness enhancement filters
Transflective design (for low power and sunlight readable)
HDMI interface integration
High brightness backlight units (daylight and sunlight readability)
Heater film for extreme low temperature usage
Touchscreen and front glass integration (see our touch page)
Interface boards and kits (see our kits page)
With our preferred suppliers we have a clear program towards:
Render supply and Phase-Out policy
EOL (End Of Life) notification and LTB (Last Time Buy) option
RMA (Return Material Authorization) process according to ISO standard