PANEL – CHARACTER – GRAPHIC – MULTI INPUT – SPECIALS
LCD
The developments in LCD have been modest compared to OLED and TFT, mainly because it is a very mature technology. That doesn't mean that LCD has become uninteresting, not at all! Less new developments create stability and long term availability. That is a great feature for those specific applications that need a typical longevity in combination with low cost.
LCD manufacturers have taken the opportunity to increase the product quality and create the best of both worlds. LCD is a typical passive technology in need of a light source to be visible. That also creates the possibility to be readable in bright sunlight without high power consumption.
The latest lightguides (e.g. backlight units) have become slimmer and brighter, making LCD to be the most common choice for industrial, medical and for example consumer applications.
One of the latest additions are CC-LCD® and Ch-LCD. They are extreme low power low-power / no-power displays that need the slightest of power to change the content. LCD displays have a very high MTBF value.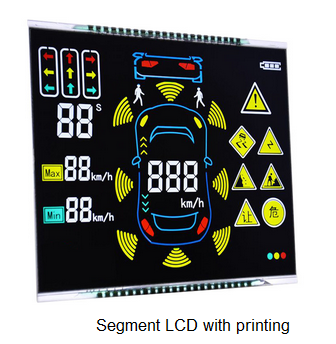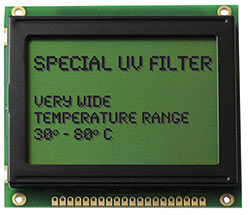 A general overview of the product palette:
TN type monochrome COG displays, character and graphic types
STN and (F)FSTN type monochrome COB displays, character and graphic types
VA type, COG and COB types
FS type; backlight color controlled segment types
CC-TN® COG and COB type; custom design reflective color
ETN / HTN high reliability displays for (extreme) wide temperature up to automotive and military spec.
ISTN / ASTN displays for faster response time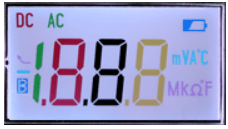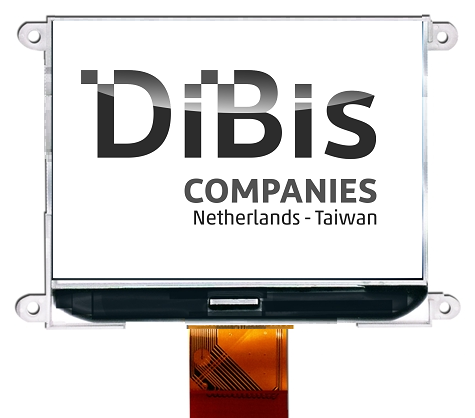 LCD COG with mounting option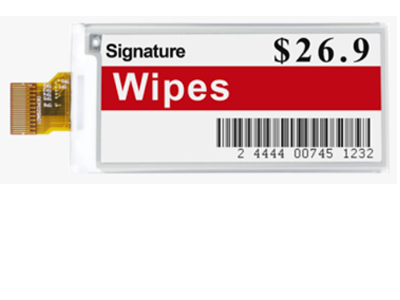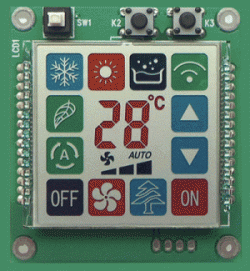 Check out our REFERENCE page on customized LCD
LCD technology is ultimately suitable for customization and add-on support technologies to improve performance and intuitive use at relative low NRE charges and low MOQ.
Customized design options that are most common are:
Size optimization
Positive or Negative mode
Backlight adjustments (color, brightness, thickness)
Temperature range improvement
TCC (temperature compensation circuit) and DC-DC converter (for single Voltage input)
Increase of characters or higher resolution
PCB adjustment
Cable or pin header add-ons
Various color configurations